Jüri Lillemets – Imre Fertő – Ants-Hannes Viira
Land Use Policy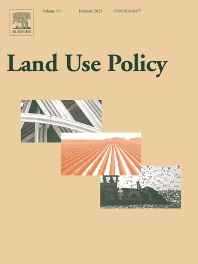 Volume 114, March 2022,
Keywords: Common agricultural policy, Rural development, Policy impact
---
Štefan Bojnec – Imre Fertő
Land Use Policy
Volume 112, January 2022
Highlights
Distinguish different types of policy instruments on different types of farm labor.
Different types of subsidies diversify farm employment and land use.
Pillar I subsidies are positively linked to prevailing type of farm employment.
Farm size increases different types of farm employment.
The level of different types of farm employment may promote land use.
Abstract
This paper investigates the impact of Common Agricultural Policy (CAP) subsidies on farm employment in Hungary and Slovenia. Econometric models were estimated separately for total farm labor, family labor, and hired labor. We find that total subsidies and, within these, Pillar I subsidies, have positive effect on farm employment of paid labor in Hungary and family labor in Slovenia. Irrespective of the country and type of employment, farm employment is significantly positively associated with farm size. Mixed results are found for Pillar II and investment subsidies. Rural development measures with agri-environmental and less favored area subsidies, and investment subsidies are particularly important for the family farm labor in Slovenia, but not for the paid labor, neither the family farm labor in Hungary. The impact of control regional labor market variables is mixed between the employment of family farm and paid labor within and between the analyzed countries. A strong link between main type of farm employment, different types of CAP subsidies and farm size suggests on the importance of CAP subsidies for maintaining of farm employment and job creation for young and unemployed, and land use policy. This might explain farmers political demand for status quo with only minor CAP subsidy changes, with raising society awareness on monitoring of effective and efficient use of subsidies.
Keywords:Farm employment,Family labor, Paid labor, Common Agricultural Policy subsidies, Farm size, Regional labor market characteristics, Central and Eastern Europe